You have several makeup brands in the market, even new ones launched recently can make the experienced brand's head spin. These days, you can find numerous products and formulations more than ever before.
No matter what type of makeup products you are looking for, there are numerous best makeup brands offering affordable to expensive products. Many of these brands are known to create high-performance and high-quality products. Even makeup artists prefer to use them.
We are here to make your search for top makeup brands easier by gathering different brands from all around the world in one place. It includes the most experienced classics to impressive newbies. Whether you want quality makeup products for the eyes, face, lips, or looking for essential brushes and tools, this collection enables you to find the best brand for your desired products or tools.
Best Makeup Brands
Finding the best makeup brands at affordable rates is not difficult anymore, especially when you have a list of brands offering a range of products that perfectly suit your needs and budget.
Continue reading this post to get the help to find good makeup brands.
1. Armani Beauty
Armani is an international fashion house that plays a great contribution in the luxury beauty world. It was launched in 2000. The makeup products collection of this brand consists of a timeless and classic vibe. How can we forget about mentioning amazingly high-performing formulas? Armani Beauty is one of the favorite top makeup brands for many women.
2. Hourglass
This brand was launched around 2004 and has been one of the cruelty-free best makeup brands for many women from the very beginning. This brand has a long list of celebrities and beauty professionals who adore Hourglass as the luxurious and high-performing products across almost all categories. There would be no surprise to know that new launch products of Hourglass often sell out within a few hours.
Read More: Cruelty free Cosmetics: Truths And Facts!
3. MAC Cosmetics
This brand was launched in Toronto, Canada, and is one of the best manufacturers of a range of cosmetics. With over 500 independent stores and more than thirty stores in France, the brand has gained popularity due to the quality and affordable price of the makeup products. The product range consists of an appealing line of lipsticks, concealers, foundations, and other products.
4. Fenty Beauty
Fenty Beauty was launched in 2017 by Rihanna, a music superstar who is also known as mega beauty boss. She was inspired by the lack of shade completeness in the beauty industry. Nothing to surprise, the variety of complexion products are a staple of Fenty Beauty. These products are available in a range of colors. Moreover, foundations come in around 40 different shades.
5. L'Oreal Paris
This is one of the top makeup brands in the world and extremely popular among women and professional artists due to the impressive lines of haircare, skincare, and makeup products. The makeup collection is widespread with hundreds of favorite products, along with all kinds of on-trend newbies. Most of its makeup products are available at affordable prices.
6. Pat McGrath Labs
Pat McGrath is a legend and also one of the famous makeup artists of all time. She has partnered with various brands and also supported various fashion shows throughout the world. She launched her own makeup brand in 2015. It is one of the good makeup brands for girls who love using different makeup products and want that same look as a professional. The brand is known for holographic eyeshadow and gilded lip colors.
7. Kosas
Kosas is all about quick, easy, and simple beauty. The products contain skin-loving ingredients and offer a huge collection of skincare and makeup products. If you love keeping your skincare and makeup routine simple and streamlines, Kosas is one of the best makeup brands for you. You will surely love the unique and comfortable textures, along with tinted face oil and liquid eyeshadow. Above all, it is a clean brand that has banned more than 2700 ingredients.
8. Nars
Nars has gained great success in a short time. Started with just a small line of 12 lipsticks, this brand has quickly turned into one of the popular beauty brands among women and artists. What makes it different from others is its iconic black and white packaging as well as bold product names. It has been chief of the reputed beauty scene for decades; still, it is fresh and innovative.
9. Urban Decay
Urban Decay entered the beauty industry in 1996 and is now extremely preferred as one of the top makeup brands. This brand is completely opposite of various demure, feminine makeup lines, all because of its bold and unapologetically brash. You can see that edgy vibe in all of its products as they focus more on innovative formulas as well as impressive colors and textures.
10. NYX Professional Makeup
Professional makeup artists love to use high-quality and luxury lines. This brand gives them everything they want. NYX offers products with pro-level formulas, colors, and textures, with no shortage of anything at all. There are mind-blowing options across all categories and, on top of that, an array of color selections. The products available at affordable prices are boon to those who love to experiment with makeup.
11. Uoma Beauty
Uoma means beautiful. This brand offers a great collection of makeup products that help you rejoice in your true beauty as the best means of creativity. The brand has given the significant focus on variety and inclusivity, which can easily be seen in wide-ranging shades. The foundation comes in 51 hues. Isn't it impressive?
12. Tower 28
This brand is known for bringing sunny and West Coast vibes to all makeup products, along with numerous fun colors and formulas. Tower 28 is one of the best makeup brands for those with sensitive skin. The founder launched this brand when she was unable to find the quality products that could work great on her own acne-prone and sensitive skin.
13. Bobbi Brown
If you love doing makeup, you will definitely appreciate this brand which was launched in 1991. It was counted in the list of a few top makeup brands for a natural look, something like nude lipsticks, neutral eyeshadow, and quality foundations. This natural simplicity can still be found in its products today.
14. Maybelline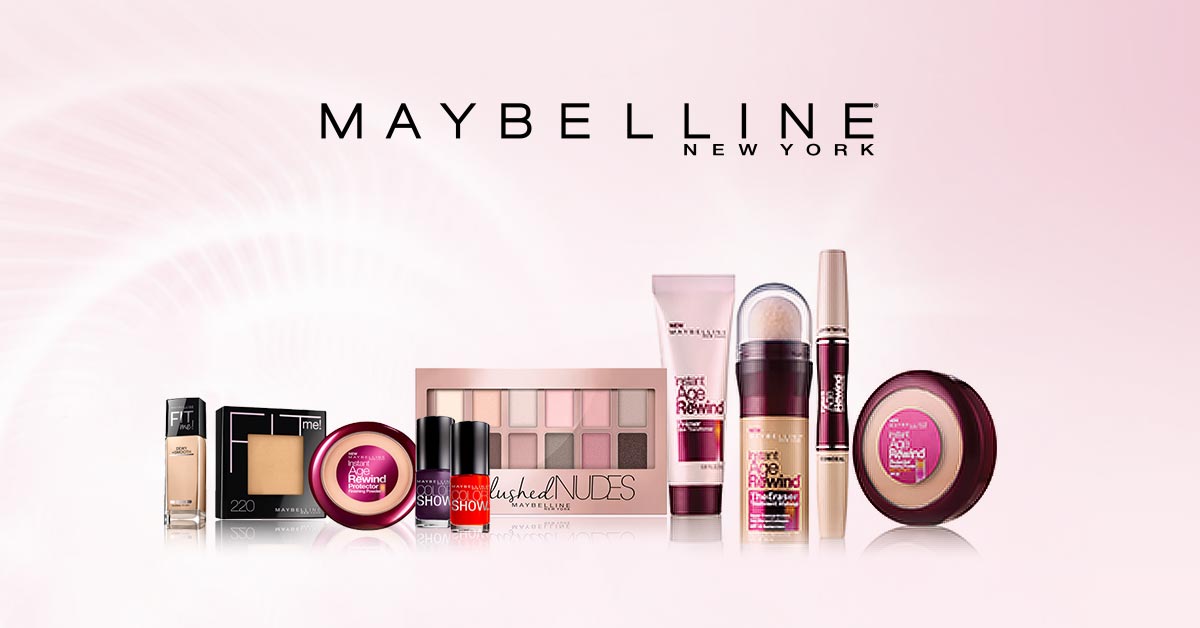 Maybelline, a classic makeup brand, was founded in 1915 by the founder Thomas Lyle Williams. At first, he had created a mascara product, which makes this brand still known for the amazing lines of mascaras. If we talk about today's beauty market, Maybelline is one of the best-selling brand in various countries around the world. It continually impresses women and makeup artists with its innovative new launches as well as several staples.
15. It Cosmetics
There are plenty of brands that are known for using skincare ingredients in their makeup products. But, It Cosmetics is the only makeup brand that works in collaboration with plastic surgeons to give the best to people. These high-tech products work great in making a difference in the complexion, at the same moment and in the long-term. It Cosmetics is known for its complexion-perfecting products, giving go-to products for all women, especially for those dealing with acne and rosacea.
16. Alima Pure
Alima Pure, Portland-based brand, was launched in 2004 and has gained extreme popularity for products formulated using natural ingredients. This environment-conscious brand uses natural formulas, such as benzyl alcohol is used as an alternative to paraben with the aim to preserve natural ingredients.
Read More : Best Anti-Aging Products To Look Younger
17. Antonym
Antonym is one of the best makeup brands for natural and organic products. The beautiful colors and impressive formula performance of the products is enough to make this brand a preference in your makeup bag, no matter what product you want. This brand has something for each area of the face. Maximum of its ingredients are of natural origin. These products are suitable for all skin tones.
18. Noyah
Noyah is not just everything about natural makeup; this brand is well-known for its natural lip products. Noyah makeup products are made with 100% food-grade formulas, where almost all of these are USDA-certified Biobased. Wearing lip products of Noyah means wearing natural and organic ingredients on your lips. Botanical oils, butter, and waxes are used to make the required color.
19. Han Skin Care Cosmetics
It is another one of the best makeup brands that offer products free from synthetic fragrance, parabens, as well as animal cruelty. This brand uses plant and vegetable pigments to get beautiful colors in products. The ingredients used in makeup products are commonly found in high-performance skincare products.
20. 100% Pure Beauty
This brand offers a huge collection of skincare, makeup, hair, and body products. All the products are formulated using natural ingredients. The brand uses strict guidelines and methodology to check and confirm that all the products contain no synthetic ingredients. The foundations of 100% Pure Beauty are available in a variety of shades.
Final Words
You can easily find the preferred makeup products in the cosmetic store or from an online retailer. This guide can help you to know about the best makeup brands that you can use depending on your preferences and budget.